Catriona Delacroix
Cardinal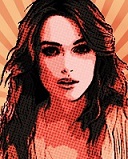 Inscrit le: 09 Fév 2008
Messages: 1042
Localisation: Scotland (and my name is Catriona Mackenzie :p)
Posté le: Ven Jan 16, 2015 6:59 am

Sujet du message: Blessed Plato Sermon

---

Sharing a sermon on Blessed Plato, given on the 10th January in Hastings. Yes, it's a bit long and rambling. >.<



Catriona_mackenzie a écrit:
"So ... Blessed Plato. What do we know of this man?"

"He was born into an influential family of Athens, one of four children and named Aristocles at birth. His father was away at war for the first few years of his life and when he returned to see his son for the first time, he commented on how large the boy was, for in his mind he had been imagining the baby that Aristocles had once been. This gave Aristocles his nickname of "Plato" for this means 'large' in Greek and stuck with him for the remainder of his life."

"He was a clever lad and was given a wide education, from music to sports, mathematics to grammar, and when he was 16 he started to write his first poems and plays. At the age of 19, he heard of a man called Socrates, a great philosopher of the time who defied the conventional wisdom of the time with his teachings. This was a great revalation to Plato for until then Plato had not considered challenging what was conventionally accepted. But now he realised he could instead examine the world and seek the truth with his own eyes and mind, rather than follow what others thought."

"Against the wishes of his family, Plato sought to meet Socrates and was so impressed by the philosopher, he swore to faithfully follow him. Together they travelled, encouraging people to reject beliefs that had no foundation and to start to believe in their own ideas. They encouraged freedom of thought on all matters and Socrates would even question the dogmas of polytheism, for at that time it was the general belief that the world was overseen by many different gods."

"But the teachings of Socrates were not welcomed by all. He was arrested by soldiers, accused of public disorder, of impiety towards the gods and of corruption of youth. Socrates was tried and sentenced to death by taking hemlock. Plato was greatly saddened. He returned to Athens and wrote down the teachings of Socrates for posterity, establishing his own educational academy in the memory of his master. Yet shaken by what had happened to Socrates and fearful of death, Plato did not continue to pursue the idea of there may be being only one god."

His academy became famous for the cultural enrichment and intellectual training of young people. Eventually, one called Aristotle came to study at the academy, passing the tests to enter with ease and impressing Plato with his intellect and use of logic to reason the truth of life around him."

"Many years passed, the two men working together in harmony, discussing ideas and examining the truth of those ideas. Eventually though, they disagreed on the nature of ideas and things, as discussed in my last sermon, and Aristotle left the academy, to Plato's regret. Plato thought that Arisotles had left because he was upset by the disagreement, that it had been the whim of youth which had prompted his leaving. Yet later he heard that Aristotle had started to teach his own ideas, ideas which were more innovative. This pleased Plato, for he saw that he had formed a belief in his former student's mind that would lead to more thoughts and study. Satisfied, Plato ended his academic work."

"So now we come to the last days of Plato."



Citation:
Taking the road to the coast of Troas, Plato felt his strength decline, and when people recognized him, he found himself increasingly not able to talk to them for fatigue.

He Arrived at the Academy of Aristotle, disguised to avoid being observed, and observed his former disciple explain the unity of God.

Conscious of having been largely overcome in wisdom and reasoning; and finding that what Aristotle had described was in fact some of his old teacher Socrates thoughts which he had not written down, he was shaken in his confidence and returned to his inn without going to greet his old friend.

It is in this inn in Axos, where he really became aware of the truth of the views of Aristotle. Finally finding the courage he had missed in his youth, he said, before the customers and owners who looked on in amazement : "Aristotle was right: There is only one God, and I bet that it was God that led Aristotle to me to help find His truth. Glory be to Aristotle, I can die in peace."

In fact, it was that night that Aristocles-Plato passed away in a bedroom of the Inn of Axos.



"What can we take from this? For many, perhaps, to spend their life following a path of ignorance only to discover the truth as death approached, they may find that a bitter experience. Plato had explored the idea of the divinity as a unity rather than a plurality when he had been younger, discussing this with his teacher Socrates. But the fear of death and persecution that had resulted in the death of Socrates turned him from this truth."

"Yet hearing Aristotle's words spoken without fear illuminated the truth for Plato. And rather than ignore them, he found the courage to finally speak. He accepted that the divine was a single being, a unity, and in doing so cast off his doubts, his questions, and found peace. There was no bitterness, but acceptance."

"Moreover he saw the part he had played in Aristotle's path and was content. Again, there are those who cannot accept being a footnote in the history of another's life, who instead seek fame and glory for their own works, who cannot accept that others may be the ones to lead the way forward. Yet here, Plato was able to find the humility to accept ideas that were in opposition to his life's work, and that rather than being the one to discover and pronounce the truth, he instead saw the value of being one who assists another forward and accepted this with grace and peace."

"Sometimes it hard to acknowledge that ye may be wrong, and it may be difficult to see others succeed and advance where ye have failed. Sometimes it's hard to step back, to see things as they actually are, because we are so clouded by feelings of jealousy, anger, and often just dinnae like the notion that others may know better than us. And believe me, I know what that's like as I know I can be a headstrong lass at times, convinced I'm right and others are wrong! But I also know how that can form a bitterness inside, that it becomes hard to view others with the same openness and love that flows from Jah."

"There is nothing wrong in debating ideas, in examining the life around us. Aristotle encourages us to do this. It might be that Aristotle would not have arrived at the truth if he had not engaged in debate with Plato. Yet is was fear that had closed Plato's mind to the true nature of the divinity."

"I therefore ask ye all, when next ye disagree with another, to step back, to look at the facts ... and if ye realise ye were wrong, to have the courage and humility to admit it. Don't give in to fear and pride. Just dinnae wait until yer at death's door like Plato, eh?"